The Voice Clinic at Kokilaben Hospital represents a dedicated centre that uniquely serves people suffering from voice disorders, with special focus on the professional voice users. It offers a team approach in evaluating and treating problems related to voice and the physical structures that produce it, which include the mouth, nose, throat and voice box or larynx.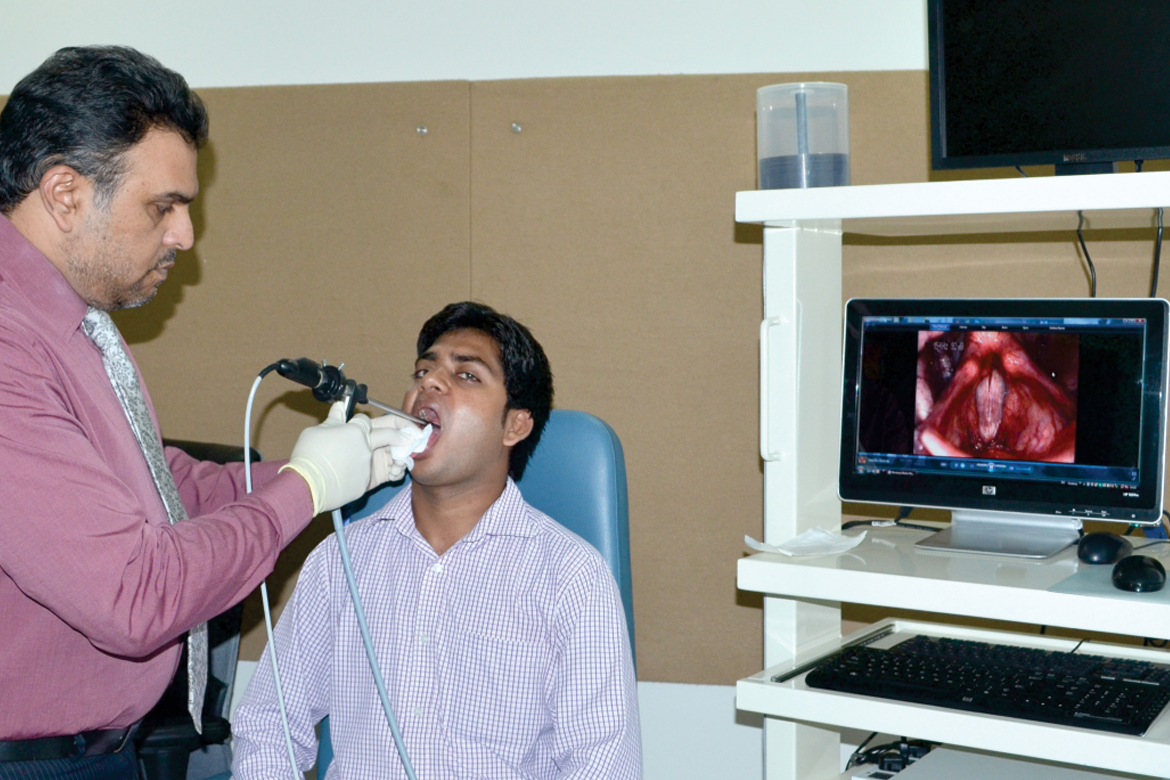 Benefits
Improved Quality of Voice
Identification and Early Management of Benign Lesions
Voice Modulation
Advanced Technology
Symptoms of a voice problem like hoarseness, whispering, vocal tiredness, pain, roughness and discomfort while talking or singing, loss of singing control and effort/strain are a cause of concern. As these problems are potentially serious and their causes cannot be determined simply by the way they sound, a comprehensive laryngoscopic examination with scientific acoustical analysis is performed. These disorders could be something relatively mundane or could be as serious as laryngeal
cancer. Prompt attention is offered to the person experiencing difficulty by voice disorder specialists.
Diagnosis is made by examination and special endoscopic techniques like videostroboscopy and voice analysis software. They are useful, later in the course of treatment, to monitor the progress of the therapy
Management
Most voice problems are managed successfully without surgery, through behavioural change and medical care. Specialised techniques that reduce tissue harm and promote faster healing are offered by our trained surgeons for the surgical cases. Habitual voice abuse is managed by conservative means, anti-reflux measures, vocal hygiene and voice therapy. Pathological conditions like cysts, nodules, polyps, tumours, neoplasms, etc., require surgical intervention by microlarygoscopic technique. Apart from injection techniques, other methods like Laser assisted procedures, and rarely, open surgical procedures like thyroplasty/arytenoid adduction are also performed
Specialist Involved
ENT specialists, speech pathologists and a voice coach provide primary services, in conjunction with several other medical disciplines to treat voice disorders. Experts from neurology, gastroenterology, oncology, plastic surgery, dentistry, endocrinology, allergology, pulmonary medicine and clinical psychology or psychiatry also form an integral part of the team. The Voice Clinic specialists perform a physical exam and specialised tests to determine the nature and extent of the problem with documentation and feedback of the recording that provides an explanation of the problem.
Voice and Speech Training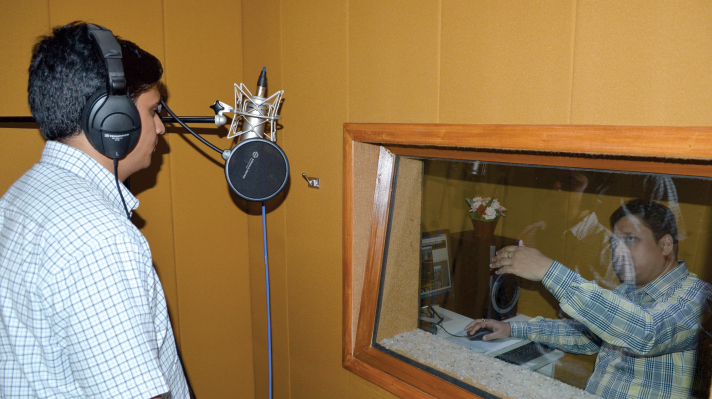 People from a wide range of professions like Executives, Politicians, Lawyers, Sales Personnel, Consultants, Doctors, Academics, Call Centre Staff, Narrators, Radio and Television Host, Voice Over Artists, Singers and Actors can opt for this program. Recording and scientific analysis of the voice in a studio allows the user to correct their voice. All voice training lessons during your voice course are taught by a Qualified Professional Voice Coach, Professional Accent Therapists and a Clinical Psychologist, who are experienced in teaching public speaking and voice over for beginners as well as for semiprofessional voice over artists and professionals.
OTHER SERVICES OFFERED
Personal Consultation
Video Stroboscopy
Dynamic Voice Evaluation with a Flexible Fiberoptic Laryngoscope
Computerised & Scientific Acoustic Analysis of Voice
Vocal Hygiene or Health Maintenance
Correction of Faulty Use of Voice
Voice Care Programs for Different Voice Disorders for Children & Teenagers
Restoration of Damaged & Injured Voices
Medical Treatment of Voice Disorders
Voice Therapy
Phonosurgery or Voice Surgery
Training to Improve the Voice Projection
Stress Management Strategies to Improve Performance
Psychological Rehabilitation After Vocal Injury or Voice Problem
Care of the Professional Voice Users
Transgender Voice Therapy
Neurological Voice Correction