Clinical nutrition over the last 10 years has been in revival phase. Renewed interest in nutrition is attributed to the fact that not only quality and quantity of calories but also certain amino acids and micronutrients have a direct correlation with outcomes in the Intensive Care Unit (ICU). So establishing adequate nutrition early in a critically ill patient is of prime importance. However, only 50% of patients receive adequate calories during their ICU admission. The importance of early adequate nutrition in the ICU is of prime concern.
Assessing Nutritional Requirements
Standard equations, such as the Harris Benedict Equation (Box-1) based on height, weight, age and sex can be used to estimate the Basal Energy Expenditure (BEE). This equation however does not take into account the stress factor which is extremely important in critically ill patients. To simplify matters one can easily calculate daily needs ranging from 25-30 kcal/kg/day.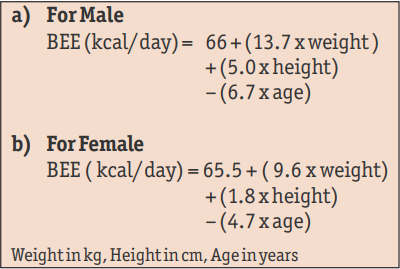 Essentials of Prescribing Nutrition
Energy: Main substrates providing energy are carbohydrates and lipids. Glucose, as the main source of carbohydrates, should constitute 70-80% of non protein calories. Lipids should provide 15-30% of calories and essential fatty acid should give about 4%.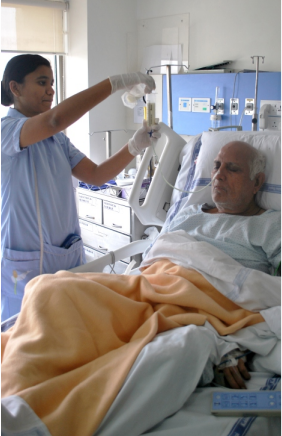 Proteins: Incritically ill patients 1-1.5 gm/kg/day is the recommended protein intake. Higher dose of 2 gm/kg may be required in specific cases like burns. The dose will need modification in specific conditions such as renal failure.
Micronutrients: Two main micronutrients are vitamins and trace elements. Enteral nutrition intrinsically has adequate supply of the micronutrients, but parenteral nutrition requires addition of both the micronutrients. Thiamine, Folic Acid, Vitamin A, Vitamin D, Biotin and Vitamin K need to be supplemented as per their Recommended Daily Allowances (RDA). Trace elements (Selenium, Chromium, Manganese, Molybdenum, Zinc, Iodine, Cobalt, Copper, Iron) are important for enzymatic processes in the body and deficiency can have serious impact on health.
| | |
| --- | --- |
| Nutrient | Health Impact |
| Vitamin B1 | CCF, Lactic Acidosis |
| Ascorbic Acid | Scurvy |
| Copper | Arrhythmia, Altered Immunity |
| Selenium | Acute Cardiomyopathy |
| Zinc | Decreased Wound Healing |
Immunonutrition: Glutamine is an amino acid which is synthesised by all tissues. It is essential for maintenance of gut metabolism structure and function and also promotes lymphocyte activation enhancing the immune system. European Society of Clinical Nutrition and Metabolism (ESPEN) Guidelines give a Grade A recommendation for glutamine supplementation of both enteral and parenteral nutrition. Omega 3 fatty acids is another nutrient useful in AROS.
Enteral or Parenteral Nutrition?
Enteral Nutrition (EN) is more physiological and has fewer complications. It is also cheap and associated with improved immune function and decreased likelihoods of bacterial translocation.
However, there are a number of factors which impair the administration of enteral feeds in acr itically ill patient. Gut hypomotility is a leading cause for failure to establish feeds in ICU. Haemodynamic instability is second factor impairing absorption of the feeds. The feeds also need interruption for procedures and surgeries in the ICU.
The administration of Parenteral Nutrition (PN) has been immensely simplified due to the availability of ready to use all-in- ne (mix of carbohydrates, lipids and proteins) bags which assure less handling, and thereby, less infection. PN should be started if EN cannot be started within 24-48 hours of ICU admission.
Recent research has shown clearly that early aggressive EN is associated with better outcomes. However, underfeeding with caloric deficit is a problem with enteral feeding. Supplementing enteral with parenteral nutrition is one way to improve nutritional intake and circumvent this caloric deficit and ensure better outcome in the ICU.