A case of Atrial Septal Defect (ASD) is expected to be discharged from our centre on the second postoperative day itself. However, such was not the case in this child. An account on an unusual case of Atrial Septal Defect (ASD) that required the utilisation of Extra-Corporeal Membrane Oxygenator (ECMO) on the second post-operative day.
Case Study
A four year old male diagnosed of Atrial Septal Defect (ASD) and Partial Anamolous Pulmonary Venous Connection (PAPVC) was admitted, and was operated and shifted to PCICU with stable haemodynamics and extubated on the same day. However, next day he had high grade fever (103°F) and thrombocytopaenia with count 24,000. He deteriorated rapidly with tachycardia and persistent hypotension in spite of maximal inotropic support (Dopamine, Adrenaline, NorAdrenaline and Milrinone).
The child was intubated and ventilated. With his condition steadily deteriorating and no obvious improvement in his haemodynamic parameters, it was decided to initiate an ECMO. The child was immediately shifted to the operating room and placed on a Veno-Arterial ECMO. An ECMO team consisting of Paediatric Cardiac Surgeons, Intensivists, Anaesthesiologist, Cardiologist and Perfusionist was formed, and were assigned round-the-clock support in groups.
The child was put on ECMO for the next three days. His blood cultures and dengue antibodies were negative. Due to persistent fever in spite of antibiotics, the child was given Intra-Venous Immunoglobulin (IVIG) for 5 days. Subsequently, the fever settled and the ventricular function also improved. The ECMO team worked round-theclock to monitor every parameter to optimise the child's condition.
Based on the improving haemodynamic parameters and serial 2-D Echocardiography, evaluation ECMO was successfully weaned off on Day 3. Due to his critical condition, his sternum was kept open for a day and closed on Day 4. It took a span of 3 weeks for the child to recover completely. A multi-disciplinary team approach involving the nursing staff, physiotherapist and nutritionist worked hard to put the child back on his feet.
Discussion
It was quite unusual for a case of ASD to deteriorate rapidly. We attributed the sudden haemodynamic deterioration with unexplained fever to Acute Viral Myocarditis. The diagnosis was further strengthened by negative blood cultures, normal blood counts and worsening of biventricular function on 2-D echocardiography.
Myocarditis is a disease marked by inflammation and damage of the heart muscle. It is believed that 5 to 20% of all the sudden deaths in young adults are due to myocarditis. There are many causes of myocarditis, including viral infections, autoimmune diseases, environmental toxins, and adverse reactions to medications.
The clinical scenario in this case was worsened during the immediate post-operative period, as these children are subjected to cardio-pulmonary bypass. The only life-saving therapeutic option remaining was ECMO. In India very few hospitals have an active ECMO programme due to its very high cost, lack of infrastructure and lack of dedicated-expert team.
The clinical outcomes of patients undergoing ECMO can be categorised according to the indication for the ECMO: severe acute respiratory failure or cardiac failure. In acute respiratory failure, use of ECMO has been shown to improve survival rates upto 50-70%. However, the results for cardiac failure are still dismal.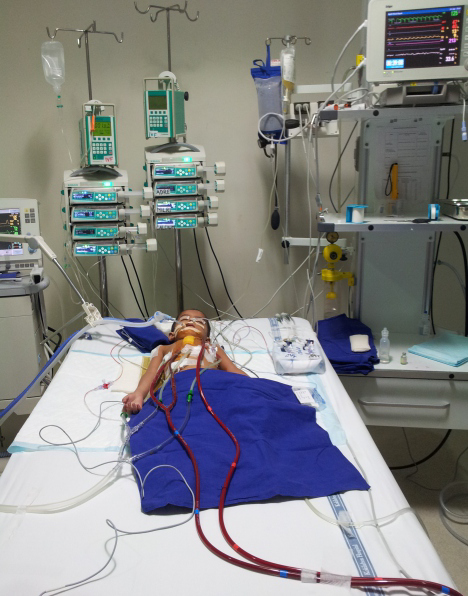 The purpose of ECMO is to allow time for intrinsic recovery of the lungs and heart. ECMO is thus an important tool in the armamentarium of life and organ support measures for clinicians, as is evident in this case.
Differences Between Venoarterial and Venovenous Extracorporeal Membrane Oxygenation
| | |
| --- | --- |
| Venoarterial ECMO | Venovenous ECMO |
| Higher PaO2 is achieved | Lower PaO2 is achieved |
| Lower Perfusion Rates are needed | Higher Perfusion Rates are needed |
| Decreases Pulmonary Artery Pressure | Elevates Mixed Venous PO2 |
| Provides Cardiac Support to assist Systemic Circulation | Does not provide Cardiac Support to assist Systemic Circulation |
| Requires Arterial Cannulation | Requires only Venous Cannulation |